My little Lila Jane is here!! I can't believe it! Here is her birth story.
On Wednesday August 3rd I woke up like any other morning and got out of bed to let Charlie out. I was 38 weeks and 6 days pregnant. When I sat down to get back into bed about 6:45 my water broke. It was crazy! I never thought my water would break and I had no idea it would be SO much water. It was like a bucket! I immediately said "Scott! My water broke!". He sprung up out of bed and was like "are you serious?!" and I said "yep! we're having a baby today!"
I quickly ran to the bathroom because I was still leaking water and was already worried that I ruined my mattress. I was so excited that I kept walking around in circles in the bathroom trying to think of everything we needed to throw in the car. We both could not believe it! We got dressed,  grabbed the hospital bags and hopped in the car. We called both of our parents on the way and told them that my water broke. My family immediately packed up and jumped in the car to make the drive from New Mexico. On the short drive to the hospital Scott and I just couldn't believe that it was really happening! We were going to meet our baby!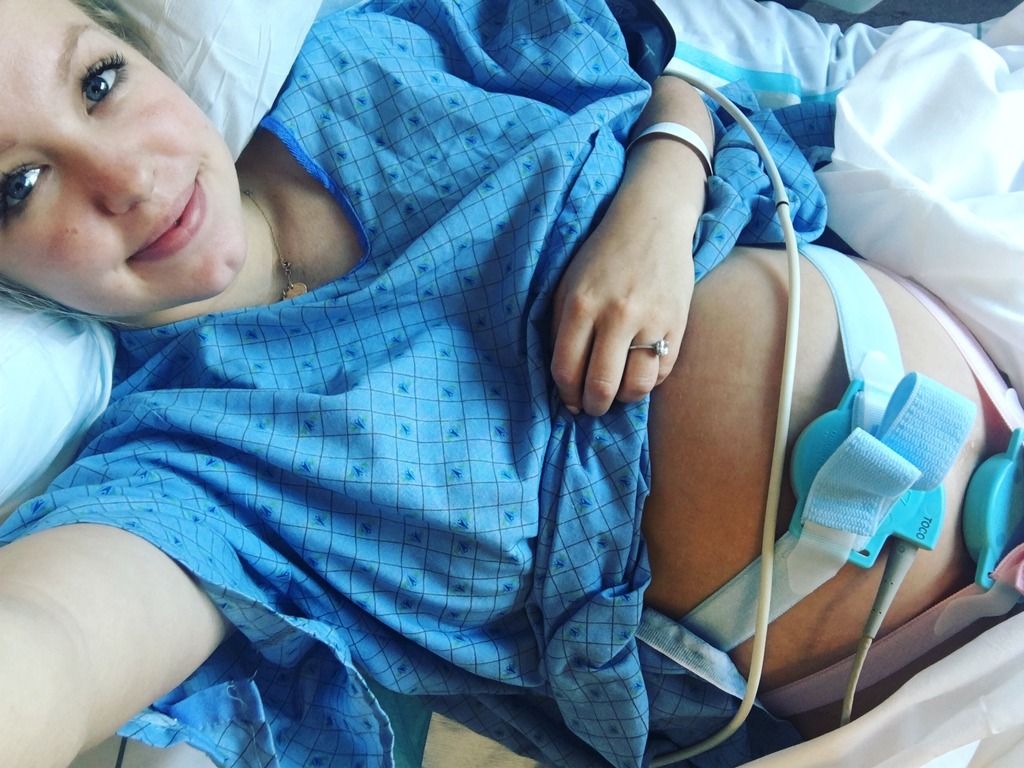 We got to the hospital at 7:30 and got checked into the most beautiful corner delivery room with gorgeous views of the mountains. They checked me and I was dilated to a 2 and 80% effaced. They also hooked me up to the monitors, put in an IV and took some blood tests since my blood pressure was elevated.  The monitors showed that I was having contractions but I couldn't really feel anything haha. They came again a half hour later and I hadn't dilated anymore so they started me on pitocin. I started having contractions more regularly then. They weren't too painful, more uncomfortable, but I knew pitocin could make you progress quickly so I asked for the epidural then. My epidural was perfect! I could totally move both my legs, but couldn't feel a thing! The next time they checked me I was dilated to a 4 and 100% effaced.  Scott and I found a football game on rerun on the TV and enjoyed watching that (we weirdly love football). Time FLEW by! I felt like I had just checked in, but I had been there for 6 hours. They checked me again and I was dilated to a 7!! I progressed so much more quickly than I was expecting and the nurse started prepping everything for delivery. It was so surreal!
At around 3pm she checked me again and said I was dilated to a 10 and ready to go. It was soon after that, that I felt the crazy urge to push. The nurse said I had to wait for the doctor though. Once he got there and got everything ready we started pushing. What was so crazy was that I really didn't feel anything but pressure. My doctor had to tell me when my contractions came so I knew when to push. I pushed for about 35 minutes and then she was here!! I started crying with joy immediately. It was the most incredible experience seeing her for the first time! Scott just kept saying "oh my gosh, oh my gosh". Scott cut the cord and then they laid her on my tummy. I could not believe she was mine and she had been inside of me just a minute ago. She wasn't crying as much as they wanted so they took her off my tummy and moved her over to the assessment table and started rubbing her and getting her to cry a little more (honestly she's just not much of a crier). Then they weighed her and that's when I really got to see her cute face for the first time! I saw that she had my chin and it started the waterworks all over again. Then I finally got to hold her skin to skin. It was unreal.
While holding her skin to skin she lifted her whole head off of my chest! She is so strong already! After about 15 minutes of skin to skin I could tell she wanted to eat and she latched right away. She is a champ eater!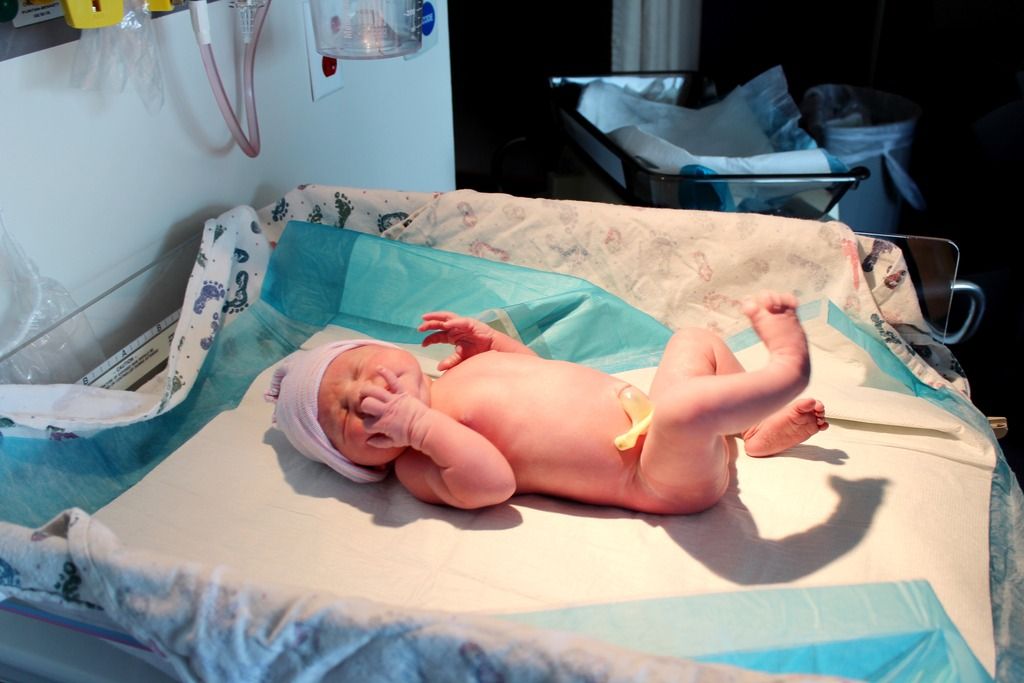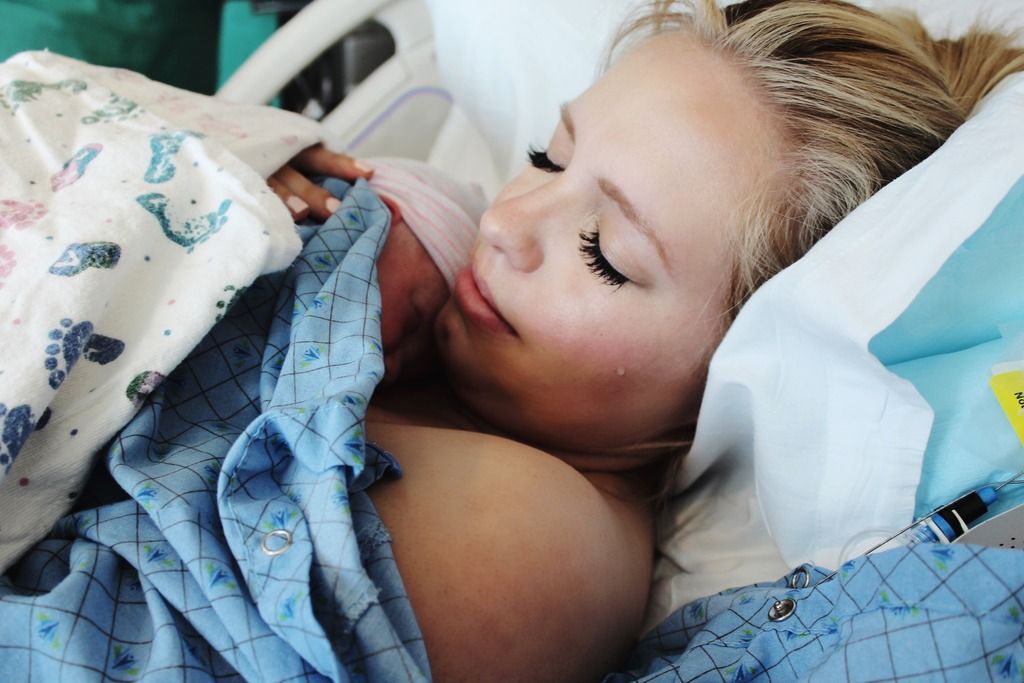 When I got to hold her for the first time
Scott holding her for the first time. My heart burst into a million pieces!
We were then transferred to my postpartum room. We gave little Lila a sponge bath and her first set of shots (broke my heart). Then the nurses came in to check both of our vitals. Lila's vitals were great but they took my blood pressure and it was through the roof. They immediately gave me a medication that they said would drop it in the next 10 minutes. 15 minutes later they came back and took it again and it was higher. They then gave me a stronger medication through the IV since the medication wasn't working. That dropped it down really quickly, but when they came in to check my vitals the next hour it had skyrocketed again. They gave me two more doses of the IV medication and increased my oral medication dosage. All that night they could not keep my blood pressure under control. It was really scary. The next day the doctor came in to share his concerns about being unable to control my blood pressure. We spent the whole day trying different doses of medication but my blood pressure would still spike like crazy and I would have to get the IV medication to bring it down.
My doctor consulted with a high risk fetal medicine doctor and they decided that my condition was a possibility of a few rare things and that testing would be needed for all of them. I had a bunch of labs done, they put in a catheter to do a 24 hour urine collection to check for a rare tumor on my adrenal gland and they gave me a 24 hour magnesium IV for postpartum preeclampsia. The magnesium IV drip made me feel absolutely horrible but my blood pressure stayed in the normal range all day and I lost a lot of my swelling.
 The next day (I think that was day 5 past delivery- honestly it was so stressful and all such a blur) I was taken off the catheter and IV. My blood pressure levels had now been in normal range consistently for over 24 hours. The doctors believed they had found the right dosage of blood pressure medication and they started my discharge papers. I felt great and was SO excited to be going home!! They told me I had to take my blood pressure three times a day to make sure it didn't spike again and that the medication was working.
I had the most wonderful evening at home. It was heaven! I got up to feed Lila about 2 in the morning and didn't feel good. I took my blood pressure and it had skyrocketed to 182/120. I was devastated. I knew I had to get the ER right away to get the IV med that we knew brought  it down quickly.
At the ER they quickly gave me an IV and the medication and then had to give me another dose because it wasn't going down. I honestly thought that they would just change my medication dosage I would go back home, but the doctor was very concerned and said I needed to be readmitted to the hospital for further testing.  I was devastated, but then he told me that my baby could not be readmitted  and should stay at home away from any possible sickness at the hospital (which I totally agree with) and I was distraught. Saying goodbye to my baby was the most heartbreaking thing I have ever experienced. I was extremely worried and concerned about my own health and although I knew I was in good hands, I couldn't help but wonder if it would be the last time I saw her. The poor guy who rolled me away from my baby to my hospital room. I was sobbing the whole way and I think he probably felt horrible and awkward.
I quickly had so much going on. I had more oral medications and IV meds. I had an ultrasound of my kidneys and a CT scan of them as well. After a series of miracles, I was able to meet with a cardiologist. At first they said it could take days to get a consult with one which was devastating because I just wanted to get home as quickly as possible. The cardiologist ordered a echocardiogram on my heart and helped me find the right dosage of medication to keep my blood pressure in a good range. He was the reason I got to go home as soon as I did.
In the end, they ruled out all of the more rare/severe things that could have been causing my high blood pressure and diagnosed me with a rare form of postpartum preeclampsia. They are hoping as my body recovers from the preeclampsia in the next few weeks I can wean off the medication and get back to feeling more normal.
I am so blessed that Lila was perfectly healthy and happy through all of this. She is the best baby!
The birth was incredible and I'd do it all over again in a second. The postpartum recovery has not been what I expected and pretty difficult, but it was 100% worth it.