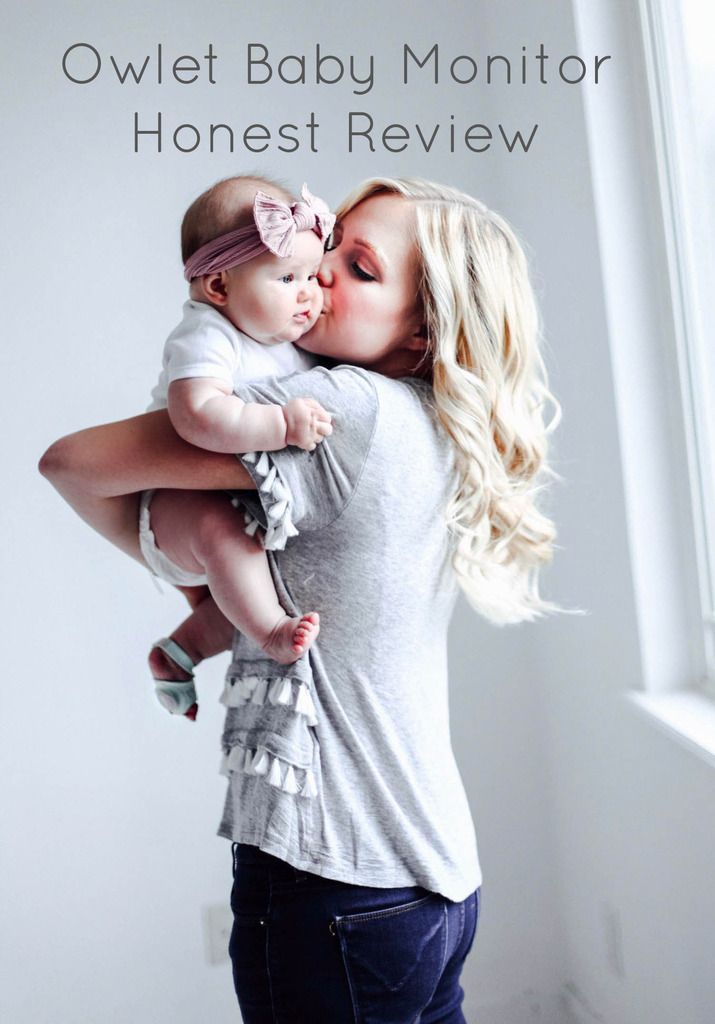 I know so many of you have been asking for this review, but I really wanted to wait until I had used the owlet baby monitor for a good amount of time so I could give it an honest review.
The owlet baby monitor is a relatively new baby product that has taken the market by storm. Years ago when they were in the development stages my husband was in a business competition with them. He came home and told me they had lost to the "baby sock people" and I wanted to know more. He explained to me it was a sock you put on your baby while they slept. And that it had a sensor in it that is designed to alert you if your baby's heart rate or oxygen levels got too low.  I was so intrigued and said that if it was on the market when I had a baby I would pay for it no matter how much it cost.
Well it's on the market and all in all I think everyone needs it!
The Owlet is a baby monitor that uses pulse oximetry to get your baby's heart rate and oxygen levels in real time. It has a base station that sits next to your baby's crib that gets the signal from the sock via Bluetooth. Your smartphone can connect to the base station so that you can check your baby's levels any time on your phone and it is designed to alert your phone if an alarm goes off. There are 3 different notification. The blue alert means that the baby sock is out of Bluetooth range from the base and is no longer getting readings. The yellow alert means that the sock cannot get a reading- either it is put on incorrectly or the baby kicked it off. The red alert is designed to notify you if the baby's oxygen levels have gone below 80% or that the baby's heartrate is too low (60 BPM) or too high (220 BPM), outside of the present zones.
Here is more information about how it works.

WHAT YOU SHOULD KNOW BEFORE YOU BUY
1. Owlet care baby monitors are expensive, but for the technology (pulse oximetry- the same as used on your finger in the hospital) and the quality, I think it is a STEAL. I think that piece of mind is worth more than any price tag. The owlet costs $250 or you can pay monthly payments. 
2. It will probably throw a few false alarms while you are learning how to put the sock on properly and scare you. It is better to be prepared for these! There is a learning curve to putting on the sock properly so it gets an accurate reading.  Here are my tips to getting an accurate reading and have less alarms. 
– Make sure the sensor is on the bottom of the foot for the newborn size sock and that you are using the right size sock. If you just started using a bigger size sock and it is throwing an alert try putting the smaller size back on and see if it fixes the problem
– Have your baby wear footie PJ's. When Lila is wearing footie PJ's it NEVER throws a yellow alert, but when she isn't it happens all the time because she's strong and kicks it right off no matter how tightly I put on the sock.
3. Don't automatically freak out when an alarm goes off. The owlet is there to alert you and is extra sensitive. Look at your baby, do they look ok? Does breathing seem easy? Are they a good color? I freaked out one night when the alarm went off after I had moved up a sock size and immediately thought I needed to take Lila to the ER but Scott calmed me down and said look at her. She looks fine, she is breathing fine, lets check first that everything is on correctly. We switched her to a smaller sock size and all her readings came back normal. 
4. You will sleep SO well! I seriously trust my owlet so much. Because it is so sensitive I know that if anything were to be slightly off it would wake me up. I check her stats before I go to sleep and sometimes if I wake up in the night and wonder how she's doing (its SO nice I can stay in bed and don't have to walk down the hall to her room just to check that her chest is going up and down!) I seriously sleep so soundly!!
5. The stats are more helpful than I thought they would be! The owlet app shows if your baby is wiggling and educates you about how their heart rate changes based on what your baby is doing. I've learned that when Lila's heart rate is above 150 she is usually awake and if its above 120 shes asleep but not in a deep sleep and if its below 120 she's in a deep sleep. Most nights I wait until she's in a deep sleep to go to bed myself. That way I don't have to wake up 3 times in an hour to go put her binky in or something else. It's actually super helpful and I find it interesting. 
6. The owlet is so helpful when your baby is sick! I have had multiple friends who knew when to go to the hospital for RSV because their babies oxygen levels were too low. It helped them receive the care their babies needed as soon as possible which helps them recover quicker and get the care they need. (*Please note, the Owlet is not a diagnostic tool or a medical device.)
7. The owlet team has great customer service! They have people you can chat with anytime if you have any concerns.
There is also a chat with a doctor feature within the app.
8. When your baby is a newborn the sock might cause pressure marks on their feet since their skin is so sensitive, but it doesn't hurt your baby and goes away within a day. Switch the sock between both feet to keep this from happening, but it looks the same the marks a baby girl would get on her head from a tight headband. 
9. It is the best baby product I own and I would recommend it to anyone. I seriously love everything about it. After the first two weeks I never have any alarms go off unless Lila kicks the sock off. 
I hope I covered everything!